We are very excited that our new Scribble Bands are such a big hit in all of the 125 "Scrubs and Beyond" and "Life Uniform" retailers across the nation.

We have just sent these stores brand new Scribble Bands that are now adjustable to fit all wrist sizes and also have fun and motivational quotes. Many new colors and Quotes now coming every month!!

You can also order and check out the new Scribble Bands of the month on-line through their website.
Thank you very much to all of you great Nurses and Caregivers for all you do and we are extremely happy our products are able to give you a little extra help!!
Sincerely, Dave and Christine Bullock (ScribbleBand- Owners)
Retailers:
Thanks for giving our new reminder products a look.
Our passion is to create a fun new twist in the 2.2 billion dollar reminder game industry. Our main intention is to now get kids and teens excited about this market. We have created unique and colorful reminder pads on a fun, safe and reusable material.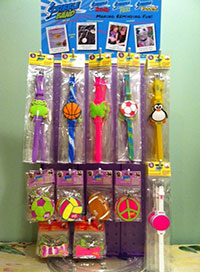 Rather than pay $8.00 for a small stack of paper reminders that can't be reused, we have created a reminder pad that is capable of years of use.
With our many fun designs and colors, we are trying to bring the reminder pads to the youth market that is pretty much non-existent in the reminder game at this point. As a teacher, I can tell you that students desperately need a push into this market, to help them stay organized and on time.
Whether it be on your wrist, with a Scribble Band®; on your backpack with a Scribble Packz™; or on your dog with a Scribble Pooch™, our products are all about fun reminding. They are truly one of a kind and serve very practical purposes for reusable and erasable reminders.
Why new products?
We added an entirely new, fun and reusable writing material to a huge (paper/whiteboard only) reminder market of $2 billion.
Extremely unique and practical long needed reusable purpose
Extremely colorful
Creative, popular, and bright designs on a fun material
Minimum Order Quantity
At this time, in our very early stage of these new patent pending products, and in an attempt to have minimal inventory levels, our minimum order quantity is 500 units for any of our products.
M.O.Q: 500 units at this time
Delivery time:
8 weeks on orders of 10,000 units and under
12-14 weeks on larger orders
Custom orders are available on all of our products
Company logos are available on all of our products
Company quotes are available on Scribble Bands®
We pay all shipping costs
Our products are extremely durable
All of our products are child-safety tested from a recognized third-party testing facility
The more you order, the more we are able to price drop!
All our products are retail ready and attractively packaged and bar coded
Promotional/Custom:
Our Floppy reminder products are perfect for:
**Business Promotion**
**Sports Team Promotion**
**Awareness Events**
If you are looking for totally unique products that would be an ideal fit for promoting your company, just call 219-242-1543 or email dave@scribbleband.com.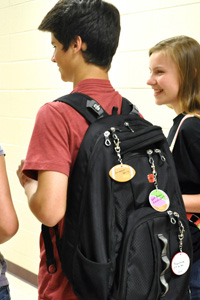 The sky is the limit for what can be written on our many unique designs!
Motivation! ** Words of Encouragement! ** Reminders!
For example:
"Keep Fighting Mom"
"Believe in yourself
"Stay Positive"
"Job well done"
"Happy Birthday"
"Never Quit!"
"Breast Cancer Awareness"
"Sporting events"
"Homework reminders"
"Pet reminders"
"Appointment reminders"
To write on our Scribble Products, simply use any erasable marker. To erase, simply run the writing under running water and rub.
To find out more about pricing and using our products for your promotion, just give us a call and we will start working on your custom order right away. Call 219-242-1543 or email dave@scribbleband.com.