| | |
| --- | --- |
| Simply use any non-toxic erasable marker* on its large writing pad and… | |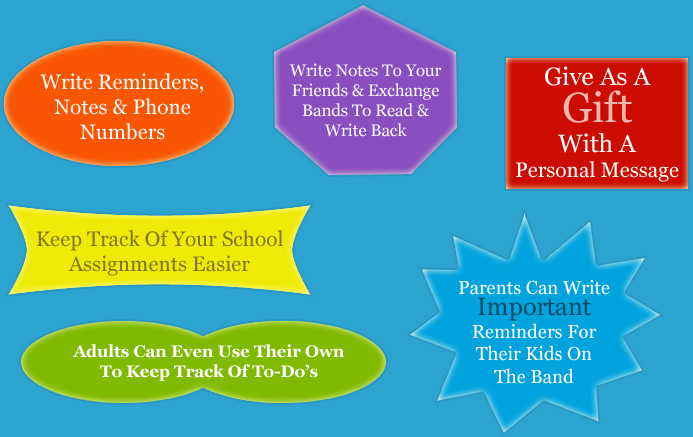 Easy to use, just wet and rub the Scribbleband™ lightly under running water!
Scribbleband™ is the innovative, new wristband you can write on! It helps you keep track of important stuff like phone numbers, special dates and homework assignments – things you might ordinarily write on your hand, your arm or a note that often gets lost.
Just write directly on this cool wristband – then wipe it off later - and write a new note – it's that easy!
Buy Scribbleband™ wristbands online - available in a variety of vibrant colors. This colorful wristband is just what you need to stay on top of your hectic schedule.
You'll find kids' wristbands and adult wristbands at Scribbleband.com. Safe, non-toxic and rugged, this rubber wristband will stand the test of time – and rigorous note taking!
Check out the Scribbleband™ cool swirl colors!
Buy these wristbands online in our Color Store; click here! And don't miss our special Scribbleband™ deals!
*markers sold separately for freedom of color and quality